If you are a returning vendor, you should have received a 2020 application in your registration packet.  If you have not, please send us an email at flatrockcreekfestival@gmail.com
We are looking for the following types of vendors for this event:
Handmade craft items
Artists
Antiques
Vintage/Upcycled items
Collectibles
We are not looking for resale items such as Avon, Scentsy, Color Street, Pampered Chef, etc. at this time.
If you feel you fit into the Flat Rock Creek Fall Fest, please complete the THE POTENTIAL VENDOR SURVEY to let us know you are interested.  This does not guarantee you a spot.
Please note that we do not allow commercial food vendors at this event.  All food is provided by local non-profit groups such as churches, scouts, fire departments, etc.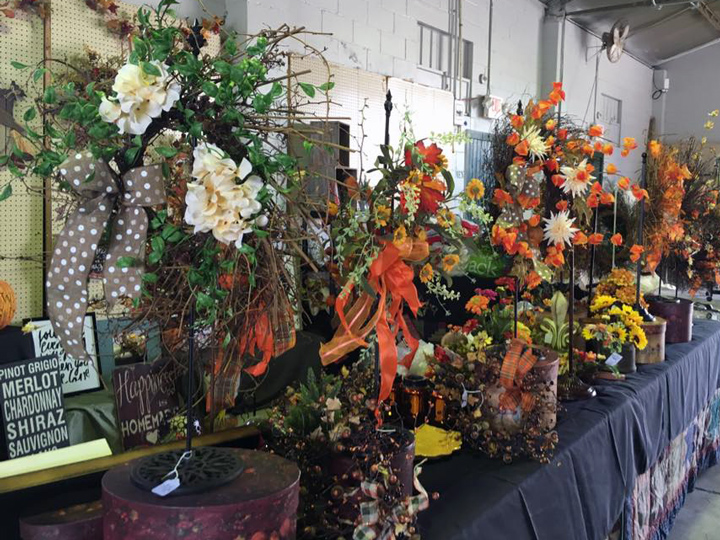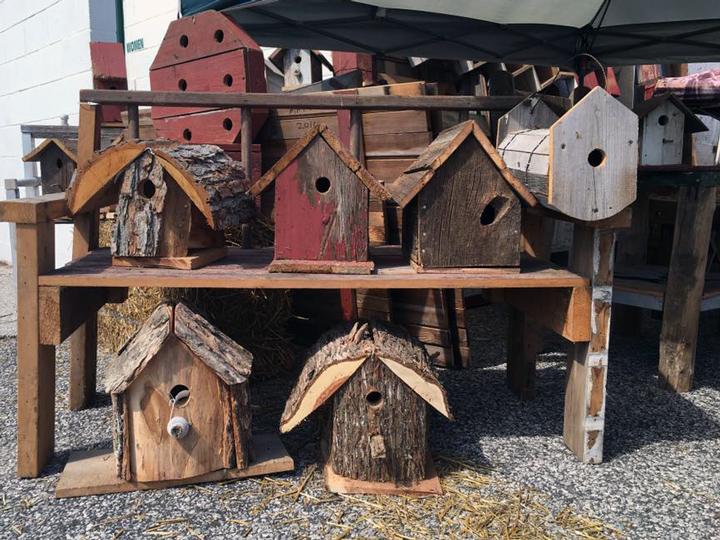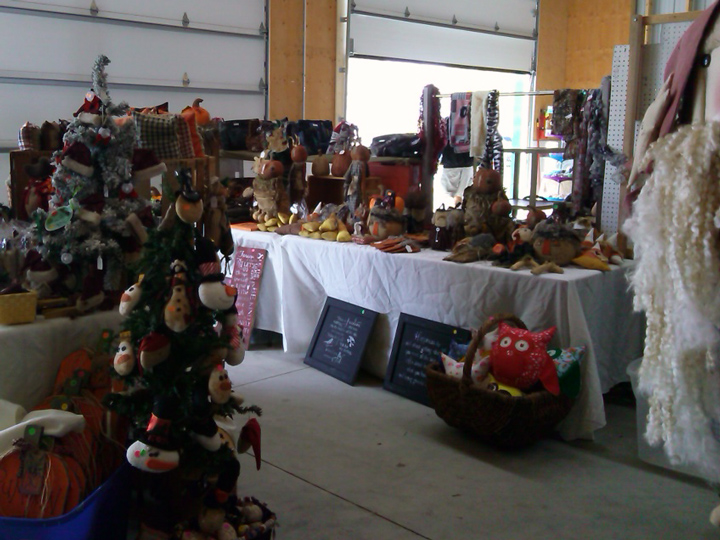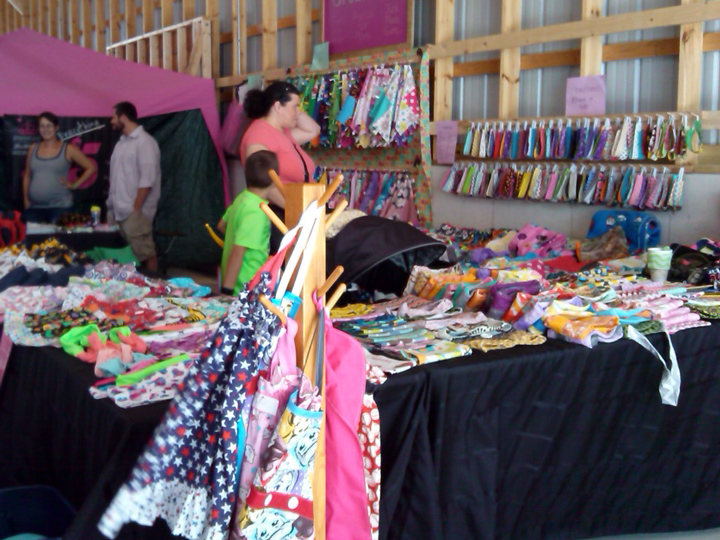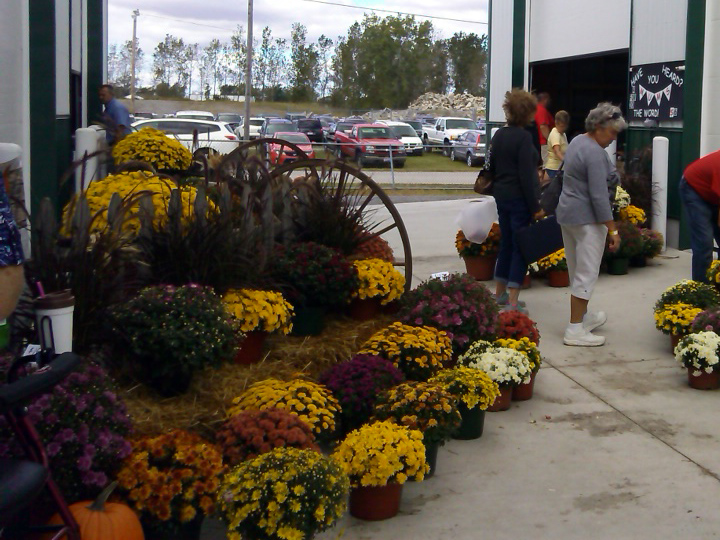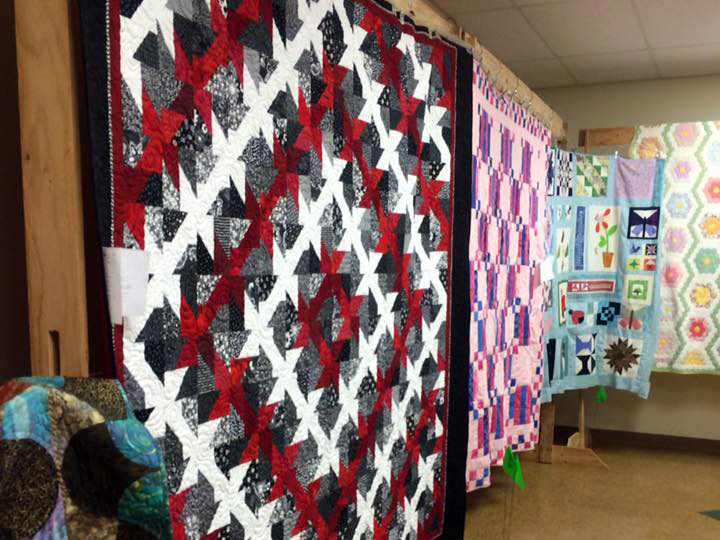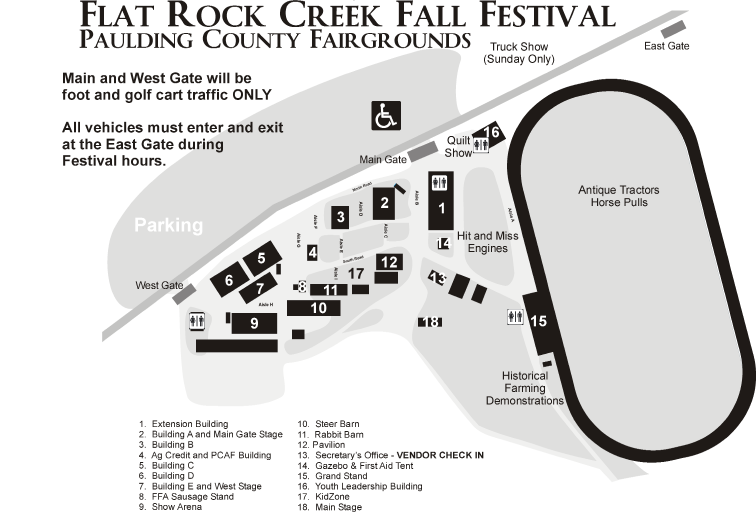 Please note:  This map is subject to change.  We are working up to the moment the vendors are in place to make sure to have the best festival possible!
2019 Vendors
| Location | Vendor Name | Merchandise Details | | | |
| --- | --- | --- | --- | --- | --- |
| Building A | E&R Ceramics | Ceramics and wooden crafts | | | |
| Building A | TWINWILLOWS WOODWORKING | handmade wooden signs, puzzles, cutting boards, rolling pins | | | |
| Building A | Two Glassy Ladies | Suncatchers, lanterns, bowls, plates | | | |
| Building A | Silver by Design | Sterling Jewelry | | | |
| Building A | Rosemary Strahm | wood items turned on a lathe, bowls, vases, boxes, pens, wine stoppers, tops, cutting boards, most are one of a kind, due to the nature of wood | | | |
| Building A | Sky's the Limit Boutique | hairbows, jewelry, crochet items | | | |
| Building A | Tattooed Girl Design | Handmade jewelry, home décor, art, reclaimed wind chimes from found objects | | | |
| Building A | Creamy Dreamy Soap Company | Handmade goats milk soaps moisturizers, bath salts, and lip balm | | | |
| Building A | Nancy's Crafts | purses, billfolds, cass carriers, runners, placemates, purse inserts, angels, hot pads | | | |
| Building A | J.F. Distributors | hooded sweats - tshirts - caps- flags - novelties | | | |
| Building A | Sandy's Sensations | Ceramic angels, wreaths, decorated trees, floral arrangements | | | |
| Building A | Rice, Betsy | wood painted decorated seasonal etc. | | | |
| Building A | Scentsy | Warmers and candle wax | | | |
| Building A | Marathon Mom's - Relay for Life | | | | |
| Building A | Crafts by Cristelda | Handmade crafts | | | |
| Building A | Cheryl Mansfield | pottery, costume jewelry, grapevine floral weaths, household, some clothing | | | |
| Building A | Our Daily Thread | embroidered items and some wood crafts and games | | | |
| | | | | | |
| Building B | This is Hope | Coasters, magnets, Christmas decorations, African items from Uganda | | | |
| Building B | Stuart, Rebecca | Fleece blankets, Watkins, Fuller Brush, Stanley home products | | | |
| Building B | R&C Novelties | Paperback and hardback books, dice and dice games, earrings, toys, cars and trucks, glass and some coins, Thomas the Tank trains and toy dinosaurs | | | |
| Building B | Grunden, Robert | Antiques, books, nascar, a little of everything | | | |
| Building B | Wilson, Nancy | Misc, DVDs, CDs, puzzles | | | |
| Building B | Engle, Judy | Homemade crafts, scarves, towels, Pampered Chef | | | |
| | | | | | |
| Building C | Wagner, Augusta | Rag dolls, rag rugs, 18" doll clothes, American Doll Clothes | | | |
| Building C | Paparazzi Accessories | Jewelry and hair accessories, Everything is $5! | | | |
| Building C | Missy's Creations | Handmade and cusomizable children's items, scarves, cornhole bags, blankets, burp rags, woodchip signs | | | |
| Building C | Seslar, Tony | Antiques and collectibles | | | |
| Building C | Rick's Lasting Impressions | cutting boards, plates, wall décor, coasters, laser engraved gift items | | | |
| Building C | VeriVerde | Faux floral, live plant arrangements, decorative prints, and wax tarts | | | |
| Building C | Apple Tree Soaps | handcrafted soaps and lotions made with oils and lye | | | |
| Building C | Macey's Canvas Creations | handmade home décor, wood metal | | | |
| Building C | Flowermania | flower arrangements, wood items, wreaths, scarves, blankets, metal pictures, glass art | | | |
| Building C | Karla Alexander Ceramics/Lindsey Sheihk Ceramics | functional/decorative handmade pottery | | | |
| Building C | Usborne Books and More | children's books and activies, baby board books to high school reference and chapter books. | | | |
| Building C | Elizabeth Zuber | Paintings - all mediums. We feature two arts who paint while displaying. We always encourage children to help. | | | |
| Building C | Reggie's Crafts | Handmade purses, scarves, bowl holders, some tools and household items. | | | |
| Building C | Bryant, Rosie | paintings | | | |
| Building C | Naturally Refreshed | Soaps, lotions, bath balms, sugar scrubs, and chap sticks. Barn wood signs and crafts | | | |
| Building C | Ginny K. Creation | Purses, billforlds, shopping bags, jackets, table runners & placemats. Baby items. Embroidered wall hangings, Christmas tree skirts, soup bowls, etc. | | | |
| Building C | The Butterfly Boutique | acrylic dot painting on canvas, panels, and rocks | | | |
| Building C | Wilson, Ardith | Handmade sewn items - towels, fleece blankets, hats, scarves, potaot bags, and baby items | | | |
| | | | | | |
| Building D | LuLaRoe | LuLaRoe: "simply comfortable" fun, fashionable, women's and children's clothing. People absolutely LOVE LuLaRoe! | | | |
| Building D | Lucy's Closet | sewn fabric scarves and crocheted doilies and wraps | | | |
| Building D | Pierce, Becky Jo | Handmade wood burned signs, leather burnings, bead work | | | |
| Building D | Sassy Snaps | Interchangeable jewelry, hand made pieces, personalized items | | | |
| Building D | Bargain Bin | Thrift store items, books, toys, vintage items, antiques, OSU items and gently used OSU clothing, kitechen & household items and jewelry | | | |
| Building D | Dick's Maple Farm | maple syrup, honey products | | | |
| Building D | Totus Tuus Rosaries | Faith jewelry, rosaries, rosary bracelets | | | |
| Building D | Knott Pottery | Pottery | | | |
| Building D | T&S Crafts | Baby, toddler items, infant car seat covers, bibs, tutus, flower cliips, cloth books, blankets | | | |
| Building D | Steeped Tea | Loose leaf tea | | | |
| Building D | Goodwin, Jim | Vintage jewelry, farm toys, American tours antique railroad items, lanterns, oil related items, antiques | | | |
| Building D | E.N.O.U.G.F Cats | Crafts, cat toys and cat shelters, horse signs | | | |
| | | | | | |
| Building E | Stephanie Dawn | Hand bags, Travel bags and accessories made in Van Wert, Ohio | | | |
| Building E | Michio Woods | Primitive industiral signs made from barnwood, boxes, crates, wood building mateirals, toy cars, die cast | | | |
| Building E | RED Ceramic's | Painted Ceramics and unpainted ceramics | | | |
| Building E | Hemenway, Scott and Mary | John Deere, dragons, NASCAR, some furnishings, lamps, dolls, motorcycles, leather pruses, handmade purses, bows, décor trimmings, wreaths, towels, jewelry, and new items | | | |
| Building E | Gee's Crafts | Knit, crochet, wood, plastic canvas | | | |
| Building E | Hays, Linda | hot pads, pilows, cloth books | | | |
| Building E | Kipfer, Tessa | Painting on canvas and wood, wood block décor, painted windows | | | |
| Building E | Born Again Treasures | repurposed and distressed furniture and home décor and home décor makeovers | | | |
| Building E | VanHouten, Edye | Rada- Kitchen Cutlery - General Household Items - Misc flea market items | | | |
| | | | | | |
| North Road Fence | Knives and More | Knives and other merchandise | | | |
| North Road Fence | Creations for Cancer | wooden items, handmade items | | | |
| North Road Fence | Miller, Stan | glassware, primitives, tools, sporting goods | | | |
| North Road Fence | Cranberry Creations | Glassware, linens, tools | | | |
| North Road Fence | Cattarene, Jerrie | Glass, crystal, angels & Disney collectables. Slightly used Home decorations & clothing. Guns & tools if applicable. | | | |
| North Road Fence | Nana's Hook Nook | Hats, Bows, crocet items, and artifical bait | | | |
| North Road Fence | Guelde, Andrea | Hand made wreaths of all sizes. | | | |
| North Road Fence | Relay for Life Crew | Relay items - wooden crafts, jewelry, wooden signs, barn wood signs, knitted items | | | |
| North Road Fence | M & S Unlimited | Clothes Embroidery | | | |
| North Road Fence | Sholl, Ted | vintage and classic Tupperware, kitchenware, tools, toys and miscellaneous | | | |
| North Road Fence | Francis, Jessica and Jason | Glass decorations, puzzles, household items, fall décor | | | |
| North Road Fence | Torches Ablaze | metal art, wall art and custom made metal pieces | | | |
| North Road Fence | Once I Was | Boutique items and handcrafted artisan jewelry anog with other handmade itmes found in the shoppe | | | |
| North Road Fence | After Shock Carts | Golf Cart Sales | | | |
| North Road Fence | Van Castle - Portable Buildings | Barn Sheds | | | |
| | | | | | |
| OUT Aisle A | Joe Allen's Air Show | Special flying airplane models. Paper planes and strange things!! Joe Allen airshows are one of a kind! They are artistic, scientific and just plain fun!! | | | |
| OUT Aisle A | Louth, Larry | Cheese | | | |
| OUT Aisle A | Jodry, Paul | Hardware, gas motors and parts | | | |
| OUT Aisle A | Country Folks Mobile RV Repair and Inspection | RV Supplies, old farm items | | | |
| | | | | | |
| OUT Aisle B | Yant Jerky | Beef Jerky | | | |
| OUT Aisle B | Pumpkin Patch | Pumpkins | | | |
| OUT Aisle B | Campbell, Anna | Crotchet towels. | | | |
| OUT Aisle B | Wallischeck, Mary | Handmade, crocheted, rag rugs. | | | |
| OUT Aisle B | Signature Embroidery | Flat Rock Creek shirts and hats, local school apparel | | | |
| OUT Aisle B | Something from the Garden | Troyer Amish wedding foods, apples and other fresh produce, School House Farms 1862 and Nater Jerky products | | | |
| OUT Aisle B | All Jacked Up | Repurposed vintage items as modern jewelry and home décor. Everything is handmade. | | | |
| OUT Aisle B | Tom's Trash into Treasure | Wood crafts made out of barn board | | | |
| OUT Aisle B | Park St. Music & Mercantile | Instruments: Used and New - Guitars, Banjos, Mandolins, Electric Guitars, Tuners, Strings and all accessories. Novelty items - kids items Barb Wire & Grace products: Shirts, Hats and more. | | | |
| | | | | | |
| OUT Aisle C | Baker, Richard | wood craft | | | |
| OUT Aisle C | Konopka, Barb | Hot pads, towels, afghans, aprons, scarves, hats, casserole covers, and more! | | | |
| OUT Aisle C | Angels Four Gift Shop | Angels of all kinds: cement, resin, acrylic, fabric, stepping stones. | | | |
| OUT Aisle C | Skiver, Wayne | hand crafted wood, bowls, pens, cutting boards, Christmas ornaments, misc. wood items | | | |
| | | | | | |
| OUT Aisle D | Boecker, Karl | Golf, socks | | | |
| OUT Aisle D | Carol's Jewelry and Gifts | Jewelry, warmers, oils, body jewelry, knives, lighters, novelties, pocket plus pouches, bamboo socks, Bop'n heads, nostalgic sport signs, tungsten, titanium, stanless and sterling silver rings and foot sleepers, neoprene face mask | | | |
| OUT Aisle D | Bling-N-Thingz | jewelry, wreaths, ghomes, corn hole bags, tea cup bird feeders, ornaments, wood stars, key rings, lanyards, tire caps, nose studs, shoe charms, watches, doo rags | | | |
| OUT Aisle D | The Woodshop | Yard ornaments and doll furniture | | | |
| OUT Aisle D | Summer House Studio | Angels made from wool - other needle felted items | | | |
| OUT Aisle D | Summers, Ken | General Merchendise, household, toys, collectibles, antiques, fishing | | | |
| OUT Aisle D | Tim Herman | rust to shiny | | | |
| OUT Aisle D | Farley, Tom | Used tools, glassware | | | |
| OUT Aisle D | Stork, Melissa | painted old windows, old antique windows | | | |
| | | | | | |
| OUT Aisle E | Design with Denise | DIY projects, chalkboards and crafts | | | |
| OUT Aisle E | The Blue Lagoon Boutique | handcrafted farmhouse signs, pillows, ponchos, home décor, etc. | | | |
| OUT Aisle E | Schlickin | legos, knives, swords, walking sticks, some kids toys, some crafts | | | |
| OUT Aisle E | Richnafsky, Richard | All new merchandise such as purses, hats, clothing, sunglasses, NFL, NCAA, MLB licensed items | | | |
| OUT Aisle E | O Sister Jams and Jellies | Jams and Jelly , Repurposed garden art | | | |
| OUT Aisle E | Bloomstein, Linda | Books, Knick Knacks, Glassware | | | |
| | | | | | |
| OUT Aisle F | Kitchen Gadgets and Sock Shop | diabetic socks, Rada Cutlery, miscellaneous kitchen gadgets, wooden roses | | | |
| OUT Aisle F | S&R Crafts | woven items, parachord items, wood craft item, floral, weaths | | | |
| OUT Aisle F | Angie Smith | crafts, comics, pretties and treasures | | | |
| OUT Aisle F | Alyssa Nelson | spider pumpkin stands, repurposed pallet wood items, phone cases, toys, halloween items | | | |
| OUT Aisle F | Katie's Premium Jerky & Snacks | Jerky in beef, bison, elk, venison, alligator, and pineapple. I've won 60 awards and have an amazing product. It's all natural and gluten free! | | | |
| OUT Aisle F | Von Deylen, Terry | Tools, candy, household | | | |
| OUT Aisle F | Schleeter's Auction | Antiques, collectibles, toys, tools, farm toys, misc. | | | |
| OUT Aisle F | Tracy's Auction | misc. | | | |
| | | | | | |
| OUT Aisle G | The Traveling Coyote | Car,truck,and tractor decals/stickers, western & farm style cast iron hardware i.e. roosters with hooks,stars, bottle openers, olde tyme plaques, jail house key sets...... | | | |
| OUT Aisle G | Gravel Road Pottery | ceramics and pottery | | | |
| OUT Aisle G | Snap Jewelry | Snap Jewelry | | | |
| OUT Aisle G | Kim and Pat | Primitives, flea markets,and collectibles | | | |
| | | | | | |
| OUT Aisle I | Mays, Sharon | Rada Cutlery, jewelry, bandanas, durags, socks, pocket knives, others misc. | | | |
| OUT Aisle I | Judy Korak | books, handmade, seasonal, repurposed, knick knack | | | |
| OUT Aisle I | Barth, Roberta | Face painting and Hand painted items | | | |
| OUT Aisle I | Justin the Clown | Balloon animals | | | |
| OUT Aisle I | Ellie Jo's Slime Shop | Homemade slime | | | |
| | | | | | |
| Pavilion | Work Wear Xpress | New work clothing including coats, jackets, sweatshirts, camo, etc. | | | |
| | | | | | |
| Steer Barn | American Ikons | Lighted and metal signs, vintage advertising collectibles. About 1000 metal signs in stock in all categories. | | | |
| Steer Barn | McNabb, Mike | Hand Tools, Power Tools, Primiteives, Glassware, Collectibles | | | |
| Steer Barn | May, Mike | Kitchen utensils, shop tools, yard supplies | | | |
| Steer Barn | Black, Tracy | Pyrex dishes and toys and oil lamps and old stuff | | | |
| Steer Barn | Shadrach, Bob and Stacie | We have a large variety of old and collectible. | | | |
Food Vendors
| Vendor Name | What's Cookin' |
| --- | --- |
| 3 Schools in Harmony | Creamed Chicken, BBQ Pork, Italian Beef, Hot Dog Sandwiches. Veg Beef Soup, Chicken Noodle Soup, Pies and funnel cakes |
| Antwerp Boy Scout Troop 143 | Steamed Sweet Corn, Corn Dogs, Kettle Chips |
| Antwerp Conservation Club | Curly Fries |
| Cecil Fire Department | Soft Drinks |
| Fireman's Association | Pancake Breakfast |
| First Christian Church | Pulled pork sandwiches, brats, hotdogs, chips, and beverages |
| First Presbyterian Church | Chili Soup and bottled water |
| Girl Scout Troop 20521 | Chocolate and caramel covered pretzels and apples |
| Gold Star Kettle Corn | Kettle corn and drinks |
| Grover Hill Lions Club | Homemade ice cream |
| Oakwood Boy Scout Troop 19 | Taco-in-a-bag, taco salads, nachos with cheese, loaded nachos, cream turkey sandwiches and drinks |
| Oakwood Library Association | Baked potatoes and drinks |
| Paulding Boy Scout Troop 315 | Smoked bologna, chili, burgers, hot dogs, and beverages |
| Paulding County Senior Center | Sausage gravy and biscuits, funnel cakes and coffee bar |
| Paulding FFA Alumni | Sausage sandwiches, canned pop, bottled water and coffee |
| Paulding Kiwanis Club | Fried fish and french fries |
| Paulding Nazarene Church | Pulled pork nachos |
| Paulding Soccer Association | Bean soup |
| Right to Life Pilgrims | Noodle dinner on Sunday |
| Sherwood Fire Department | Doughnuts |
| Simonin Texas Caviar | Caramel apples, salsa and chips |
| STRM Ministry | Apple dumplings |
| Thirsty Diner | Frozen specialty beverages, caramel apples, burgers, hot dogs, and cotton candy |
| Youth for Christ | Chicken dinners, ribs and pork chops |
©2018 Flat Rock Creek Festival