Hey everyone! Camping preregistration is now closed. If you are interested in camping we do have some sites available but they will be given away on a first come/first served basis starting at NOON ON THURSDAY.
Our camping gate will be at the WEST gate again this year. Hours will be 9 AM – 8 PM for check-in. If you arrive after hours, we ask that you dry camp across the road in the parking lot until morning.
Registration is based on availability. Golf Cart Registration will also be at this gate.
The following rules and regulations were devised in an effort to ensure everyone's safety and enjoyment. We here at the Flat Rock Creek Fall Festival, staff and campers alike, love our festival. We believe firmly in a "Tread Lightly" policy and have instituted these policies in order to promote a safe and enjoyable visit with us. Please keep in mind that these regulations were designed to minimize accidents and injuries. All vehicles utilized within the fall festival are subject to the following rules and regulations. Violations of this policy may result in suspension of cart, ejection from the festival, or legal recourse. We wish to continue the tradition of "carting at the festival" but it can only work if we all drive carefully and conduct ourselves responsibly. Management reserves the right to amend these rules and regulations at any time, without notice.
All golf carts or motorized vehicles inside the festival campus are required to pay a $10 fee to have their golf cart inside the premise.  This fee is $10 per day or $10 per weekend. The charge is the same. You may pay this fee at the west camping gate.
All golf cart users are required to show proof of insurance.  
Handicapped patrons do not pay a fee, but must register their vehicle, show proof of insurance, and receive proper credentials.
Golf Carts are NOT permitted on the main drag during peak hours of the festival. If traffic is congested, our security team will ask you to leave the area to avoid any accidents.  Please do not take golf carts into buildings under any circumstances, even with a handicap placard.
The speed limit throughout the fairgrounds is 10 MPH. Any and all vehicles must observe this speed limit at all times, and watch for children, pedestrians, and animals that may be sharing the roads with you.
Operation of a golf cart or vehicle is restricted to licensed drivers only. Children are not to operate these vehicles at any time, whether riding with an adult or not, due to the safety risk this presents. This includes children/grandchildren or family members of staff or members as well.
All vehicles MUST display a current year Flat Rock Permit at all times.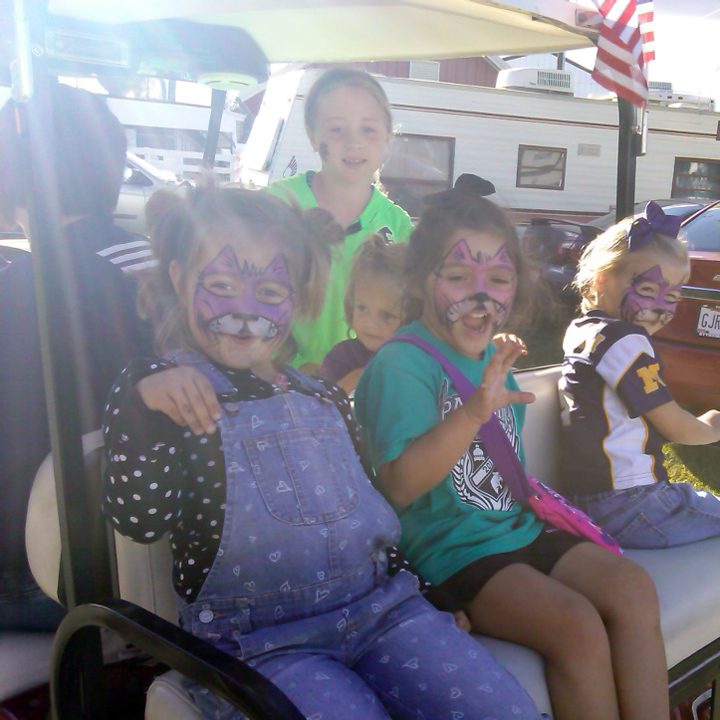 ©2018 Flat Rock Creek Festival