2023 bands include:

Friday Night- The Bulldogs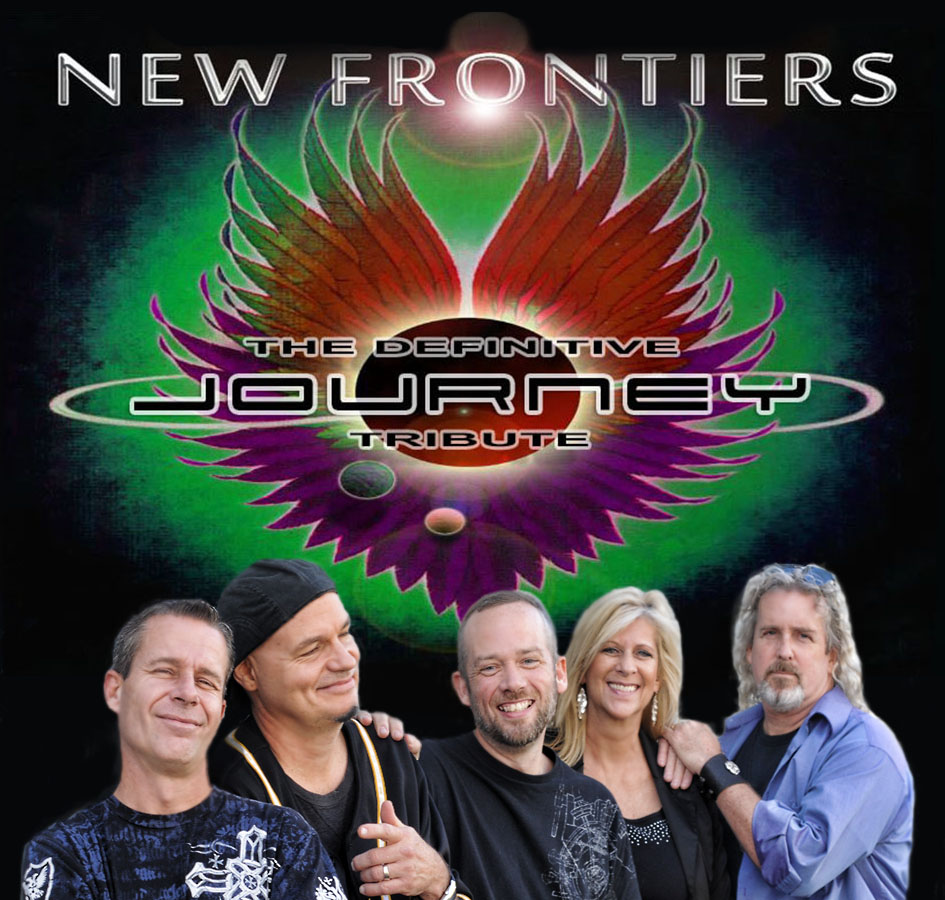 Saturday Night – New Frontiers
(
The Definitive Journey Tribute
)
Numerous Other Groups Performing Each Day!
Plus over 100 vendors, Antique farming exhibits, Tractor Pulls, Horse Pulls, and so much more!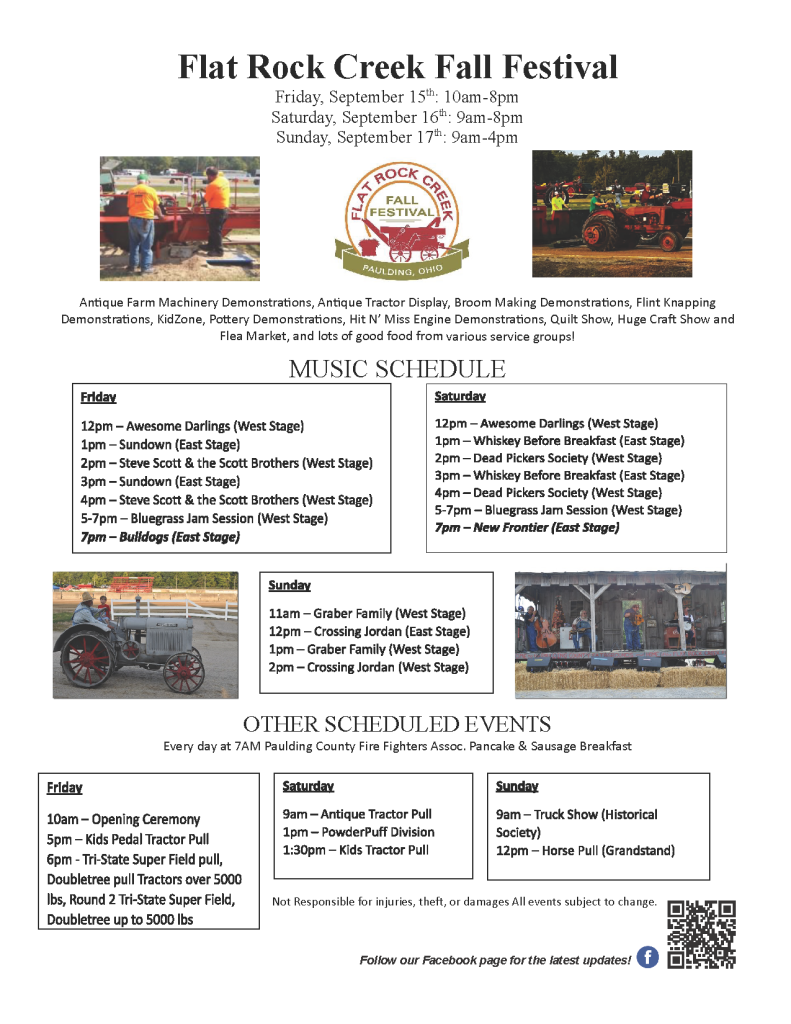 We will again be hosting the Michigan Dynamometer Association Horse Pulls on Sunday of the festival.  Lightweights will begin at noon with Heavyweights to follow.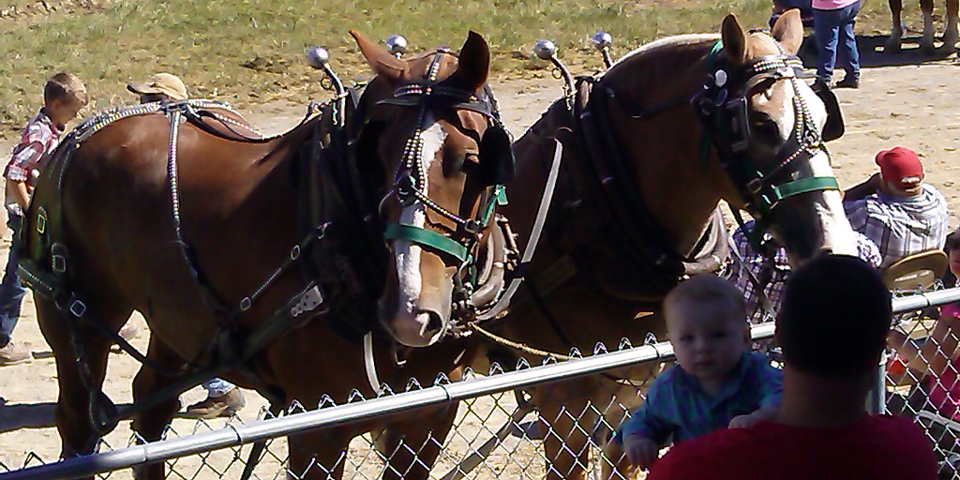 Going on All Three Days of Flat Rock Creek Festival Fall Festival
THE STEAM ENGINE TRACTOR
The first engine-powered farm tractors used steam and were introduced in 1868. These engines were built as small road locomotives and were operated by one man. If the engine weighed less than 5 tons; they were used for general road haulage and in particular by the timber trade. The most popular steam tractor was the Garrett 4CD. The fact still remained that the steam rig was so bulky and unmanageable as to be impractical for the average farmer. But it was the forerunner of an attempt by farmers to drive their machinery with something besides horseflesh and manpower. Steam quickly found its niche as belt power for threshers, releasing horses from this job. And on a much lesser scale it was later used to pump water, bale hay, shred and cut silage. But toward the turn of the century it was to run into the competition which doomed its widespread use on the farm.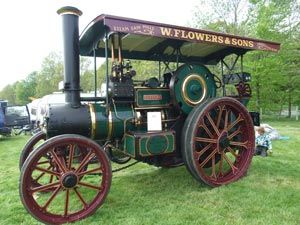 THE GAS FARM TRACTOR
The gas tractor began making inroads into the farming industry at the turn of the century. There was rather bitter competition during this period between the steam and gas-tractor manufacturers. The president of the Kinnard-Haines Co. stated that when he first went into the business, the steam tractor manufacturers refused to load their machines on the same freight cars with his gasoline tractors. According to Vintage Farm Tractors by Ralph W. Sanders (ISBN1-55192-031-X) "Credit goes to the Charter Gasoline Engine Company of Sterling, Illinois, for first successfully using gasoline as fuel. Charter's creation of a gasoline fueled engine in 1887 soon led to early gasoline traction engines before the term "tractor" was coined by others. Charter adapted its engine to a Rumley steam-traction-engine chassis, and in 1889 produced six of the machines to become one of the first working gasoline traction engines."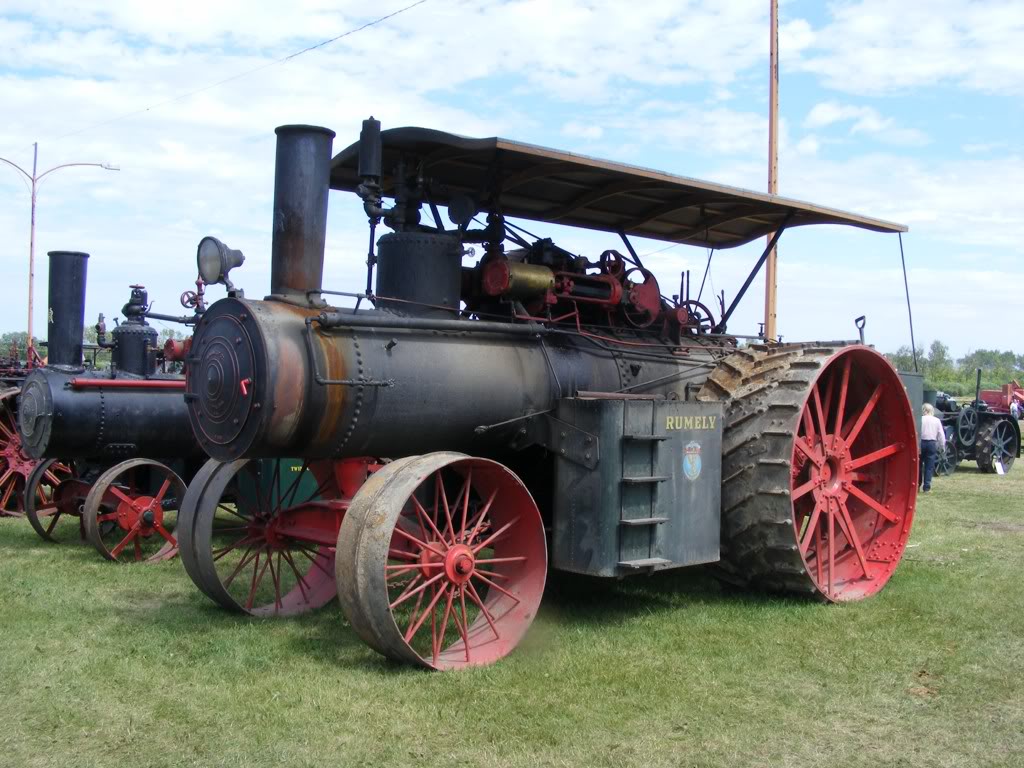 These are the kind of tractors that you can expect at the festival. It's one of the highlights of the Flat Rock Creek Festival, mainly because it will take you back to a time when things were simpler. We invite you to come and enjoy the day looking at how our community got its humble beginnings.
Located across the road at the John Paulding Historical Society
Sunday Only
Family Friendly
KIDS OF ALL AGES